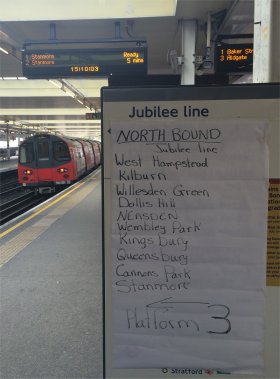 With major tunnelling works taking place on the Jubilee line over the Easter weekend, there are no Jubilee line services between Finchley Road and Waterloo.
We always like it when something like this happens, as it means you get to see an unusual working – in the case a Jubilee train departing northbound out of Platform 3, which is where they normally run through southbound.
Watching the movements for a few minutes revealed that the normal northbound platform for Jubilee line services (Platform 2) was closed altogether and trains instead were scheduled every 5 minutes to arrive into Platform 3, and then reverse out north again.
Interestingly on the hand-written sign though, we can't work out why NEASDEN is so important as to be written all in upper case?