3D Station Maps
A completely unique feature to Station Master are the 3D Maps that we've drawn of the station.
You get to visualise the station and see how the corridors link up (and what the shortest way out or interchange might be), where the stairs and lifts are (for accessibility users) and also graphically shows what door to be at for the best exit/interchange too.
Examples (Click on the thumbnails for larger image)
Each 3D Map also contains a summary information box for the station, which also shows a mini track-plan of the platforms with lines passing through it, orientated geographically to the north allowing you to see how the station is really set out.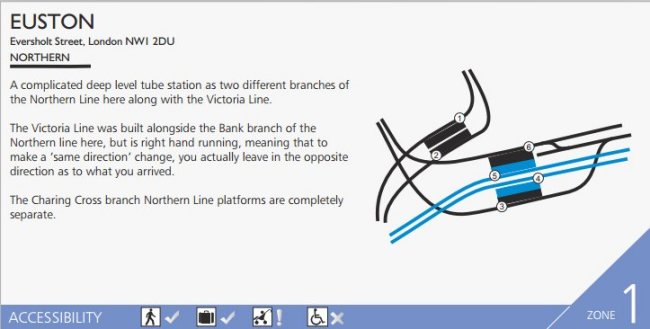 For those with accessibility issues, the station maps also show where the raised section part of the platform is, for level access on/off from the train - as you have to be in a particular place. Also, it shows if a staircase is split into sections - e.g. here a 33 steps staircase is split into three sections of 11 stairs, with a level place to stop in between.
We've now completed all 270 3D maps for Tube stations, and partially completed the ones for Overground and DLR stations, but they will be done!
At the moment there are over 200 maps (but over 75% of the Tube station - including all of Zone 1) are complete, but were constantly adding more in free updates, and will continue to do so until every station is mapped out.
More Examples (Click on the thumbnails for larger image)