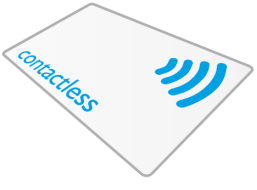 We previously reported, that Barclays had sent us an email invite to the contactless payment pilot and had some questions about the way the system would work.
Having been through the signup process and read some of the associated information, things are now a little clearer.  However, we've been unable to use contactless as a method of payment so far (although we do know someone who has been successful), and have discovered that it will be of little practical use compared to your current Oyster card.
The sign up process is very straight forward.  Log into the new TfL portal with your existing email address and password that you use for Oyster (or create a new account if you haven't already got one).  We presume this portal will replace the current Oyster one in time.
Our existing Oyster card was already loaded, although clicking it linked in to the existing Oyster portal.

Adding a contactless payment card is as simple as clicking the "Add a contactless payment card" button and filling in your card details which are checked with your bank.

Once you've completed this step your card is listed, and you are "Ready for travel".

When we actually tried to use our contactless card, though, we got Error 89 from the ticket barriers – "Unknown card type".  Fair enough, this is a pilot (and not available on the buses, as they already have contactless payment) and we expected some initial problems.
We went back and read the small print in our invite from Barclays, where we discovered that we have to wait for a welcome pack and a membership card to arrive. "It's important that you wait for your personalised membership card from TfL before making contactless payments for travel. You'll need to carry your membership card with you whenever you travel, as you may need to show it to a member of staff if asked.".
Another card to carry? we think that's ridiculous.  It's all down to revenue protection. TfL tell us that you'll get an £80 penalty fare if you are using contactless payment and are not able to show your membership card!
Since we wrote this, TfL have tweeted that "You won't need a membership card, this is just part of the initial pilot and serves to identify the user."
But a big issue of contactless payment that we think will make it of little practical use day-to-day compared to your Oyster card is the security check.
If you've used contactless for payments in a shop, you'll already know that once have used your card contactlessly a certain number of times (in our case it seemed to be the 4th time – however we were rejected on the next transaction too!) the contactless payment is rejected and you have to revert to the normal Chip & PIN transaction (which resets the count).  How do you do this on a bus (where contactless payments are already accepted) or on a Tube ticket gate?
You can't.
Even TfL's information on contactless for buses acknowledges this shortcoming and offers a solution:
"From time to time your card issuer requires that you enter your PIN as a security check. If this happens when you are on a bus you will not be able to use your contactless payment card to pay for your journey"
"Use a different way to pay for the journey. Make a chip and PIN transaction at another retailer and try your card again on another bus journey. If necessary, contact your card issuer for advice"
That's very unhelpful!
So, if you were expecting to replace your Oyster card with a contactless card, forget it.  You will never be sure when your payment card will be rejected because of the security check.  I asked TfL about this and they said that they "don't recommend you use contactless all the time" and that contactless wasn't a replacement for Oyster.  They also said that if I wanted to use contactless to travel I would have to 'keep track of how much I'd spent and reset the card in a cash machine' (or by a purchase).
In practice this is going to be almost impossible, and completely impractical if you wanted to dedicate a contactless card to travel in London instead of Oyster!
---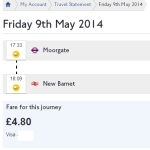 Although we have been unsuccessful using contactless payment and have not received membership cards yet, we do know someone who has, and he kindly sent us a screenshot of it.
He also received a membership card.
---
(Update: 12th June 2014)
We've since heard, unofficially, that when contactless payments do actually go live properly, that the bus and tube card readers will not actually perform a transaction on your card (perhaps a £0.00 "free" transaction to get the card details).  Your card details and journeys will then be processed in TfL's system and a charge made on a weekly basis, with your Monday to Sunday fares rolled up to the best value ticket for that week.
This will get around the bank security check problem presently seen on the buses.  The card issuers have been working very closely with TfL to make sure that this all works properly as they see this as the "killer application" of contactless payments.
The Oyster card, despite rumours, is not going to go away entirely as there will need to be an alternative method for people without contactless bank cards (children etc) to be able to travel, but the majority of us should be able to carry one less card around.