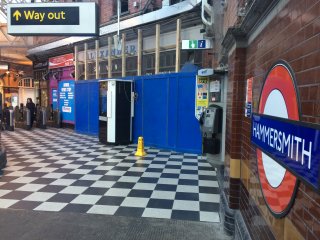 The Station Master is spending a lot of time on the Hammersmith & City Line this week, so it didn't take us long to notice the familiar blue hoarding and a million construction safety notices to spot that some new works are taking place.
Seems like the barbers shop at Hammersmith Station (C&H) is no more – perhaps everyone is buying their haircuts off the internet instead? – and so LU are turning it into a new entrance/exit on Beadon road to be complete by July of this year.   A new ticket office and gateline? That should help – it does get crowded when an entire train turns out and tries to get through the three barriers.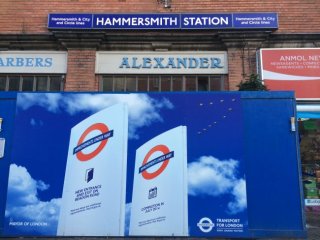 This does make us wonder though whether they'll make one side the way-in only, and one said the way-out only, which'll mean a slightly longer walk if you're connecting from the the Hammersmith (D&P) station.
Oh. And did you spot the deliberate mistake back there? We said 'ticket office'. There will of course be no ticket office, just a bank of ticket machines ..
.