It's as if we're mind readers.   Just yesterday we were musing about the possibility of Covent Garden doing 'a Camden Town' and closing at particular times, and that's exactly what's happening … well, sort of.

TfL just put out a press release to announce some works to the station to upgrade its lifts, and give them 25% more capacity.  We're still not quite sure how they can replace the four lifts with lifts that are 25% bigger without using some sort of TARDIS/Timelord like technology, but I guess we'll just have to take their word for it.
The main effect of this is that Covent Garden will be exit only for 10 months from Monday 24th February onwards. In addition, westbound trains will not stop at all at weekends – meaning you'll have to get off at Leicester Square instead.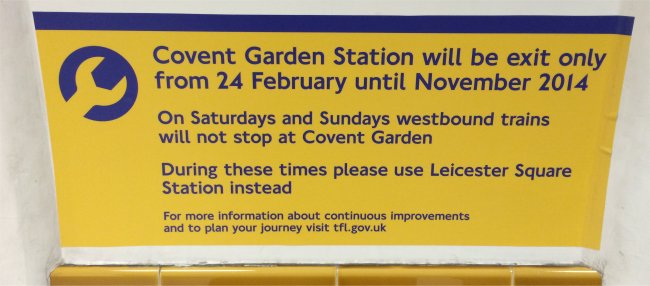 Whilst all this great, and extra lift capacity will ease the problem (the modern lifts will also travel faster, meaning quicker shunting of passengers up and down, too) we can't but help wonder whether it'll also obviously be used as an experiment to see if Leicester Square station can cope on Saturdays, and in the long term – even with the new lifts – we will yet see 'a Camden Town' happening at Covent Garden.