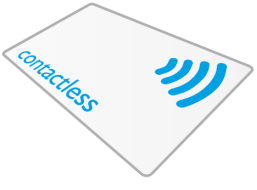 After our post on Contactless payments last week for the pilot on tube trains, we're still waiting for our 'membership card' to turn up in the post – it's been two weeks now and we've still not received it. We had a sneaky go at using our contactless credit card the other day though, and it did correctly charge £2.70 for an off-peak journey from Zone 3 to Zone 3 through Zone 1, with no 'Error 89' that we had got on our previous attempt.
However, we did learn something about contactless on bus journeys at the weekend!  A revenue inspector got on board the bus we were on, and when he did, he showed his badge to the driver, and got him to print out something from the Oyster machine – when I asked what it was, he was happy to show us.
It was a list of the time and last four digits of the payment cards used by the people (in this instance just one person) that had got on board the bus and used a contactless card. Therefore, anyone else showing a contactless card whose last 4 digits didn't match any on the printout, had NOT touched in properly and would be liable for a penalty fare.
We still don't see how this is going to transfer and work on tube trains, but it's interesting to see how it works on the buses anyway.