It's becoming less of a secret now about the false façade at Leinster Garden – all because the underground dug its way through leaving the anomaly in its wake.
But here's another architectural structure of note – all due to a tube line down below.   Get out at South Kensington and walk two minutes around the corner to Thurloe Square, and you'll find this – a house on the South Terrace that narrows to just a few feet in width.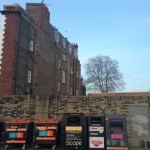 It's a real house, someone lives inside – and there are rooms which are wider at one end and much narrower at the other. And if we move to the right of the bins and peer over the wall we can see why – the cut and cover District and Circle lines are behind the house down below to the east of South Kensington station.
We believe they were in place before the house on the South Terrace was built – and it was simply squeezed in, the builders preferring to have a narrower house rather than a space with no structure altogether.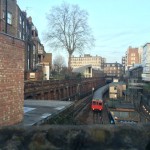 There are a few places like this on the Underground, and so we've started putting a map together of them all showing you where they all are …